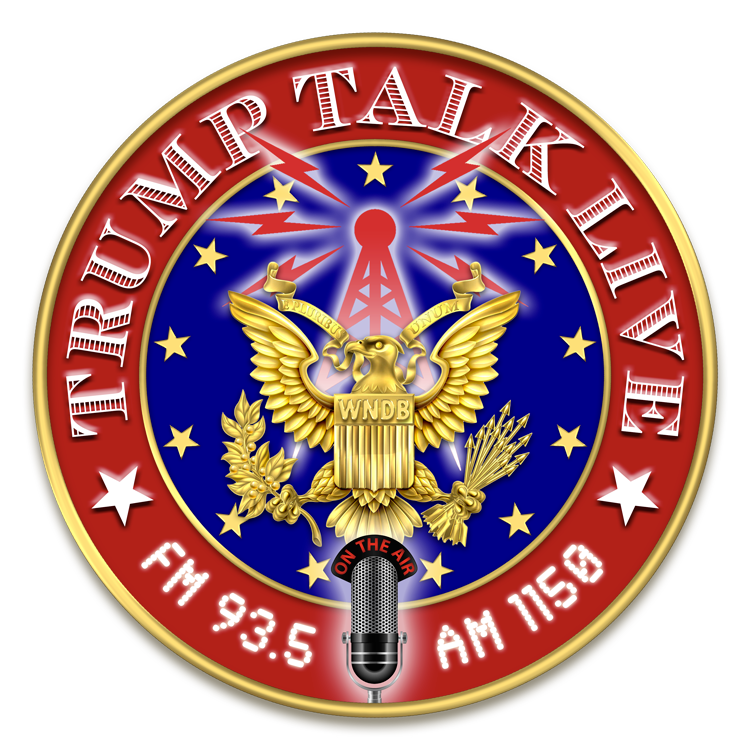 GREETINGS FELLOW AMERICAN PATRIOT TRUMPUBLICANS…
AND WELCOME TO THE 2-HOUR FINAL EPISODE OF TRUMP TALK LIVE…
WHICH FOR THE PAST YEAR HAS BEEN THE HOME OF FEARLESS TRUTH-TELLING
ABOUT OUR BOLD, VISIONARY TRANSFORMATIONAL 45TH PRESIDENT DONALD J. TRUMP…
AND HIS UNPARALLELED MISSION TO RESTORE AMERICAN GREATNESS, EMPOWER THE PEOPLE AS SOVEREIGN RULERS OF THEIR OWN DESTINY… AND ROLL BACK THE DEEP STATE WHICH THREATENS THE VERY CORE FOUNDATION OF OUR REPUBLIC! 
WE HAVE BEEN DILIGENT DEFENDERS OF DONALD TRUMP'S AMERICA FIRST AGENDA.
WE HAVE BEEN EXPLAINING TO YOU THAT THIS PRESIDENT IS UNLIKE ANY OTHER THAT CAME BEFORE…
WE KNOW THAT WE THE PEOPLE ARE THE LAST BEST HOPE IN PRESERVING THE DREAM OF AN AMERICA WHERE EVERY INDIVIDUAL IS A RULER OF HIS OR HER OWN DESTINY…
WHERE SELF-SUFFICIENCY AND PERSONAL INITIATIVE OPENS UP A FLOODGATE OF OPPORTUNITY. 
DONALD TRUMP HAS HEARD THE PLEAS OF THE FORGOTTEN AMERICANS… THE "DEPLORABLES" WHO PAY THE TAB FOR THIS COUNTRY DAY AFTER DAY.
WE ARE NOT PERFECT, BUT WE STRIVE TO FORM "A MORE PERFECT" UNION.
SADLY, SOME IN AMERICA ARE MORE INTERESTED IN SCORING CHEAP POINTS THAN ACHIEVING A BETTER LIFE FOR ALL AMERICANS, RICH, POOR AND IN BETWEEN!
WE'VE JUST WITNESSED ANOTHER AMERICAN NIGHTMARE.  THIS TIME THE SCHOOL MASSACRE HAPPENED HERE IN FLORIDA.
THERE IS A NATURAL HUMAN URGE TO REACT IN ANGER WHEN BAD THINGS HAPPEN TO GOOD PEOPLE.  WE WANT TO FIND SOMEONE TO BLAME.  WE WANT OUR LEADERS TO FIND AN IMMEDIATE CURE TO THIS EVIL SCOURGE OF WANTON HUMAN CARNAGE.
OVER TIME, OUR OUTRAGE AND OUR HEARTBREAK WILL HEAL ENOUGH TO ALLOW US TO PURSUE COMMON SENSE RATIONAL SOLUTIONS TO THIS EPIDEMIC OF BLOODSHED IN AMERICA'S HEARTLAND.
IT'S UNDERSTANDABLE THAT MANY AMONG US POINT TO THE GUNS.  BUT THE ANSWER TO THIS CRY OF THE HEART IS NOT ANSWERED SO SIMPLY.
WE ALREADY GUARD OUR AIRPORTS, OUR BANKS, OUR CELEBRITIES, OUR POLITICAL LEADERS, OUR COURTS, OUR PUBLIC FACILITIES WITH GUNS.
SADLY, IT'S TIME WE CONFRONT THE OBVIOUS:  WE DON'T ADEQUATELY GUARD OUR MOST PRECIOUS RESOURCE… OUR CHILDREN, FROM HEARTLESS KILLERS WHO SEEK TO INFLICT MAYHEM IN OUR MIDST.
OUR PRESIDENT IS LISTENING.  HE'S MADE THIS HIS PRIORITY.  IN THIS 2-HOUR FINALE OF TRUMP TALK LIVE, YOU'LL HEAR HOW OUR COMMANDER IN CHIEF IS HEARING CRIES OF THE HEART…  AND SEEKING RATIONAL WAYS TO ANSWER WITH SOLUTIONS THAT ACTUALLY WORK. 
THOSE SOLUTIONS INCLUDE BETTER SCREENING OF GUN OWNERS FOR MENTAL HEALTH ISSUES, BETTER FOLLOW-UP WITH PEOPLE WHO ARE AT RISK OF COMMITTING VIOLENCE… AND BETTER PROTECTION OF THE FACILITIES THAT HOUSE OUR CHILDREN EVERY SCHOOL DAY.
THE PAST WEEK HAS ALSO SEEN INDICTMENTS OF 13 RUSSIANS BY SPECIAL COUNSEL MUELLER… AN INDICTMENT THAT SAYS RUSSIANS DID MEDDLE IN OUR ELECTORAL PROCESS BUT FAILED TO CHANGE THE OUTCOME.  YES THERE WAS  RUSSIAN MISCHIEF…BUT NO AMERICAN WAS A WITTING PARTICIPANT!  WHERE'S YOUR RUSSIAN COLLUSION DELUSION NOW, FULL OF SCHIFF?
IS IT POSSIBLE THAT AFTER A YEAR OF HOLDING AMERICA IN SUSPENSE, THE MUELLER INVESTIGATION WILL END WITH A WHIMPER?
THERE IS SOME REAL SKULLDUGGERY TO UNCOVER, INVOLVING J EDGAR COMEY, THE CLINTON COVERUP, URANIUM ONE, THE DIRTY DOSSIER, AND CORRUPT PLAYERS AT THE FBI, CIA, STATE DEPARTMENT AND DOJ.
YOU MIGHT ACTUALLY UNCOVER SOME REAL RUSSIAN COLLUSION… IF YOU DON'T GIVE A PASS TO COMEY, LYNCH, THE CLINTONS, OBAMA, AND  A CAST OF SCOUNDRELS STILL LURKING IN THE SHADOWS WITH COVER FROM THEIR DEMOCRAT COHORTS DEEPLY EMBEDDED IN THE DEEP STATE.
MORE THAN 4 DECADES AGO IT TOOK MORE THAN 2 YEARS FOR A TWO-BIT BURGLARY AT THE WATERGATE TO FINALLY TRIGGER THE DOWNFALL OF RICHARD NIXON.  SOME OF THE CRIMES AGAINST TRUMP MAY TAKE A WHILE TO EXPOSE….BUT THIS IS NOT OVER YET.  SORRY, I WON'T BE AT THIS MICROPHONE TO SHARE IT WITH YOU.  BUT WE'LL BE IN TOUCH, HAVE NO FEAR.
TRUMP TALK LIVE HAS COME TO YOU LIVE EACH THURSDAY FROM THE DAYTONA BEACH STUDIOS OF WNDB, 93.5 FM, 1150 AM, WITH THE VOICES OF TRUMP WORLD COMING TO YOU UNDER THE MASTERFUL TOUCH OF OUR TECHNICAL PRODUCER PHIL KINCAID.
(FACEBOOK GRAPHIC)
WE STREAM VIDEO OF OUR BROADCAST ON THE VOLUSIA COUNTY FACEBOOK PAGE AND ON THE VIC BAKER CHANNEL AT YOUTUBE, WHERE YOU CAN SEARCH TRUMP TALK LIVE TO FIND US.
(TARS TRIO GRAPHIC)
OUR DEEP GRATITUDE GOES TO VOLUSIA TEENAGE REPUBLICANS IAN ESCALANTE, MALCOLM SWAGGERTY AND DUNCAN DEMARSH… OUR FAITHFUL BEHIND-THE-SCENES CREW.
(MALCOLM CAM)
MALCOLM SWAGGERTY HIMSELF IS MANNING THE GRAPHIC CONTROLS FOR OUR WEBSTREAM TONIGHT…MALCOLM RECENTLY REGISTERED TO VOTE AND IS NOW A MEMBER OF THE VOLUSIA COUNTY REPUBLICAN EXECUTIVE COMMITTEE ALONG WITH DUNCAN DEMARSH.  CONGRATULATIONS ON YOUR UPCOMING COLLEGE CAREER MALCOLM!
(VIC CAM)
I'M YOUR FEARLESS TRUMPUBLICAN TRUTH TELLING HOST VIC BAKER…BRINGING YOU THE FINAL TRUMP TALK LIVE 2 HOUR EPISODE TONIGHT ALONGSIDE MY CO-HOST, PINCH HITTING FOR THE AILING JOE FIELDUS….
(SPLIT SCREEN)
THE OUTSTANDING TEENAGE REPUBLICAN OF FLORIDA, VOLUSIA TARS CHAIRMAN DUNCAN DEMARSH!  DUNCAN IS A HIGH SCHOOL SENIOR, AND WE BELIEVE HE CAN OFFER YOU A UNIQUE PERSONAL PERSPECTIVE ON THE TRAGIC SCHOOL MURDERS IN PARKLAND, AND WHAT WE SHOULD DO TO MAKE SURE OUR KIDS ARE SAFE.  DUNCAN!